Yarn Pr0n Friday!!!
So, the brilliant and lovely (and really, really funny) Turtlegirl and I spent about three hours on the phone last Friday night, and she made the statement that she wanted to start a "Yarn Pr0n Friday" blog ring. I told her I thought it was a great idea, and that I would be more than willing to participate. So, today is my first contribution to Yarn Pr0n Friday!

Happily, this coincided nicely with Kris receiving a macro lens for his camera, so I pretty much let him go to town. When John moved into his new house, Kris turned what was John's room into his photo studio, so he has some lights set up (just some basic clamp-on lights from Home Depot, although he is drooling over this.), and some foam-core reflectors. It's a pretty decent setup for doing Yarn Pr0n, that's for sure.

Oh, and I will take this opportunity to shamelessly pimp Kris's new website - Digital Arcana. He's been working very hard to get it set up, and I think it is coming along beautifully!

And without further ado, the Yarn Pr0n! (I'm posting big-ish pictures, but if you click on them, you will get even bigger ones)


Berocco Denim Silk in 1426 - "Absinthe". Turtlegirl picked this up for me at her LYS. It's the same yarn that she is using for the Simple Knitted Bodice (although hers is red), and that is what this will become as well.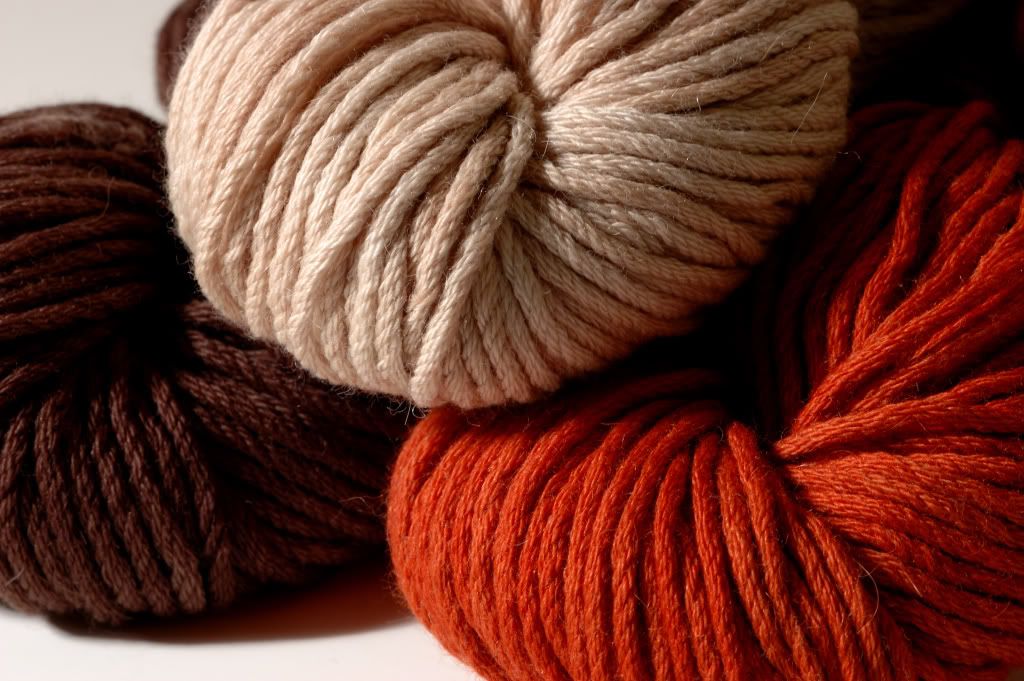 Blue Sky Alpacas Hand Dyed - I picked up the taupe and orange a while back with the intention of making a sweater for Kris (obviously, I have more than this), and found the dark brown just the other day. I decided it would work well with the other two. Now I just need to figure out a pattern. It may be something as exciting as stockinette in Fibonacci-sequence stripes. If you haven't seen it, it is a wonderfully squishy soft heavy worsted weight.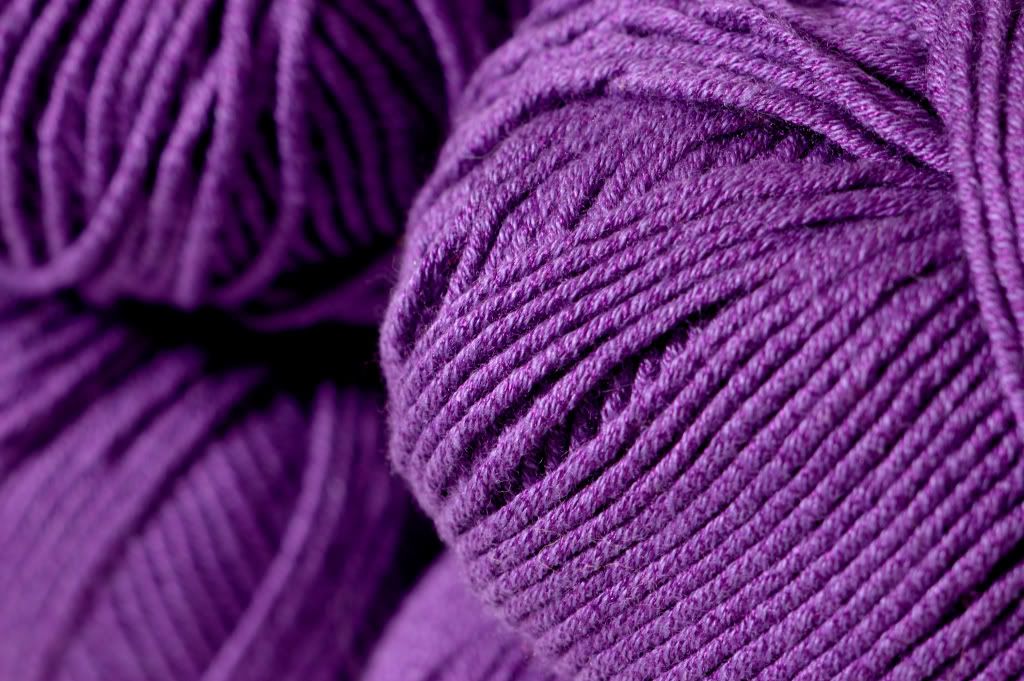 Debbie Bliss Cathay in a lovely purple. I met up with Margaret9 a couple of weeks ago for a crochet lesson, and I swapped her a couple of Addi Turbos for this and the next yarn. No clue what I'm doing with it, but I really like it!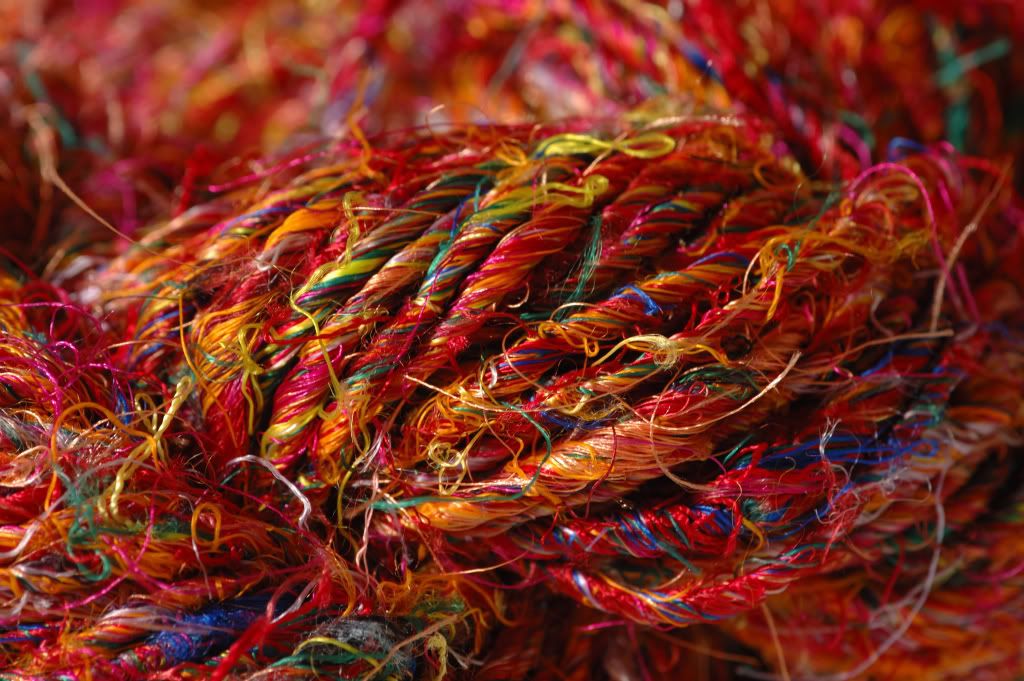 Ah, Sari Silk. One lovely, bright hank of Sari Silk. I'm thinking some sort of modular scarf, although I haven't decided for sure. This is my first hank of it, so I'll have to see how it behaves.


Kris loved photographing this one, so here's a bonus shot. I'm actually almost tempted to just buy some for him to use as photo fodder.

In general knitting news, Christmas present #2 is coming along pretty well. I've got the stitch pattern memorized, so it's good Metro and SnB knitting. Present #1, however... not so much. I love the way the FO looks, but I'm just not enjoying the actual knitting of the pattern. I think maybe this will end up being abandoned, and I will sit down with Mom and have her pick a pattern. If she really likes this one, I'll do it, but I have my doubts about it being ready for Christmas. Of course, if I get a lot done during the flights to and from Vegas, that may change. The presents for Dad and Tom are still, well, nowhere at this point. I should be able to get Tom's done in relatively short order, since the first one took me no time at all. Dad's worries me a little, but I think if I can get a couple of non-Christmas things done, I can sit down and concentrate on it.

When we were in PA for Labor Day weekend, I wore my Pomatomus socks over to my Aunt & Uncle's house, and there was ooh-ing and aah-ing. I told my Aunt Cathy that I would make her a pair of socks. I looked through my sock patterns, but nothing jumped out at me. And then the new Knitty came out on Monday, and I saw these. I am leaning toward making them in Essential in Dusk. I would love to make them in Gloss for the "wow" factor of the silk, but I am a little leery of giving someone socks that have to be hand-washed. Thoughts? I am considering ordering some Gloss for me for Serrano, probably in the Burgundy, so maybe I will order some extra to play with and wash, and see what happens.

Labels: Yarn Pr0n Fridays

<!—Begin #comments -->