Blogstalking! And another recipe!
This week in blogstalking... tools.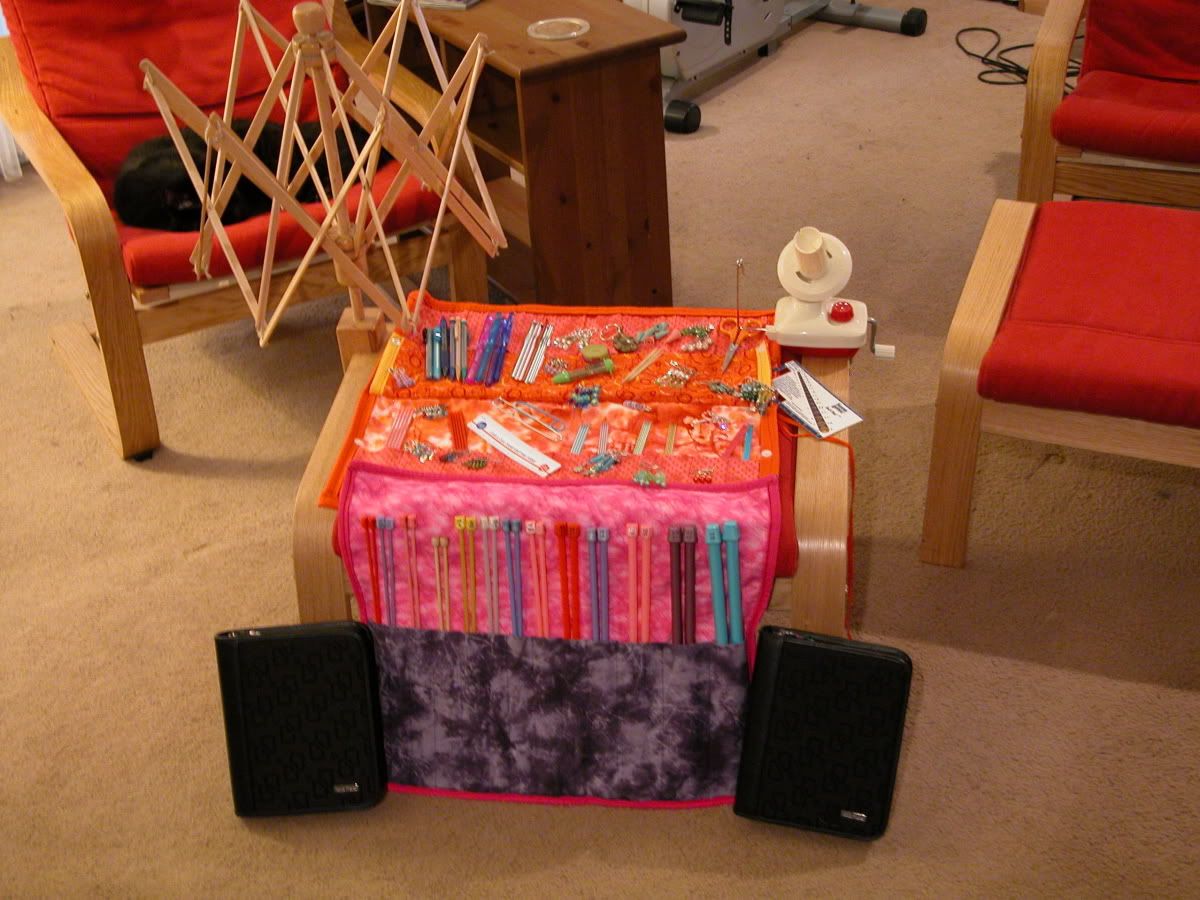 Clearly, I opted for knitting tools. I thought about shooting Kris's woodworking tools, but they are big. And I could have done cooking tools, but I have WAY too many, and it would be embarassing to show that. =) So, knitting tools it is. In the front are my straight needles, flanked by the 2 Knit Picks cases holding my Options Circs in one and my Classic Circs and DPNs in the other. On the top of the footstool are my swift and winder, along with my DPNs, and the array of tools I carry with me: scissors, ruler, tape measure, pencils, erasers, TONS of stitch markers, cable needles, point protectors, stitch holders, and Chibi with a variety of yarn needles. I'm a tool junkie, I guess.

Ok, so y'all remember the Oreo Truffle recipe I posted a couple of weeks ago? Well, my Mom has done it again. We were in PA this weekend to see my folks (Sunday was Dad's birthday), as well as some other family (including both of the baby girls I made the quilts and Boleros for). When we got there, Mom told me about these cookies that a friend of hers from work told her about.

Tell me that is not the funniest thing EVER? It looks like a little cheeseburger! (That's a saucer it is sitting on, just for the size comparison). The "buns" are Nilla Wafers, the "burger" is a Keebler Fudge Shoppe Filled Caramel cookie, the "cheese" (or mustard, depending on your preference) is vanilla frosting tinted yellow, and the "lettuce" is coconut tinted green. To assemble them, put a little frosting on a Nilla wafer, stick the caramel cookie on it, spread a layer of frosting on the caramel cookie, and dip it in the coconut. Top it with the other Nilla wafer (you may need another dab of frosting). They are really yummy, in addition to being hilarious to look at. Not surprisingly, they were a big hit with all the kids (big and small) at my Aunt & Uncle's house on Saturday. We're having some people over for the Penn State-Notre Dame game this weekend, and I think I have to make some.

You might notice that there is a new progress bar in the sidebar. Um... yeah. I cast on for the Shamrock Henley pullover for Kris last Thursday night (before meeting the absolutely adorable Margaret9 in DC for coffee and a crochet lesson), and then proceeded to keep working on it in the car to and from PA and while we were there. So much for sticking to my holiday projects. I suppose I could make Kris wait unti Christmas to actually have it, but that just seems mean. I am enjoying it - it's a nice stitch pattern and goes fairly quickly. I definitely like the yarn a lot. I'll probably make something for myself in it at some point. I'll take pictures once it is more than just a big old tube. =)

Labels: Blogstalking, Knitting - WIPs, Recipes

<!—Begin #comments -->