Stash Flash 2006!
Seriously, this button just made me laugh - I had to use it. And yes, as per the disclaimer in my sidebar, I am an actual bona-fide sorority girl. Kappa Delta Sorority, Alpha Phi chapter, and proud of it. I think that's why this one amused me so much.




Ok, here is is. In deference to the dialup folks, I am posting small pictures. Click them if you want to see the bigger versions. Even so, this is an image-heavy post, so be warned.

And yes, you will notice that some of my yarn is posing on a trenchcoat. I figured it was a stash FLASH, right? And I know - I'm a complete dork. But at least I amuse myself.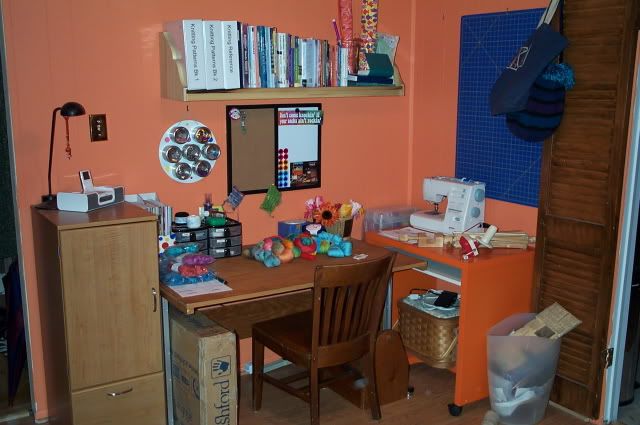 Just to give you a sense of place, here is my craft room. Technically, it is the dining room, but it's kind of small for that, we have no dining room furniture, and there are only two of us. We really don't need one. We put down the laminate floor and painted it the awesome mango color ("Two to Tango") about a year or so ago. It's bright and cheery, and I love it. It's actually a bit brighter than the pictures show. The left picture is the storage wall. The big cabinet has a lot of the "unplanned" yarn in the tall section, and the drawers are mostly leftovers from completed projects. The planned stuff is in the bins behind my spinning wheel. The hanging orange thing (thank you, Ikea) currently houses Fun Fur and other novelty-type yarns (and is probably on its way out). The picture on the right is my sewing table, with the bookshelf Kris made me on the wall above it, along with various other necessities.



The Stash Cabinet:



(Incidentally, if anyone knows the name for this thing, I'd love to know. We've always just called it the "high-low cabinet". Descriptive, but probably not accurate.) - The door opens to reveal three shelves. The top two are yarn for nebulous undefined future projects, and the bottom shelf is the Frog Pond.


Actually, some of it is leftovers without a home yet, but there are a couple of things in there that are just never getting finished. My leftovers from the Olympics are in there, along with some Lion Suede and Baby Clouds I bought to make the Baby Uggs from DYY and never got around to doing, the crocheted throw that I doubt I'm going to finish, the crocheted throw that I really doubt Kris is going to finish, and some acrylic that keeps changing projects and never actually gets used.




The drawers of the cabinet hold:

Top drawer - Leftover laceweight and dishcloth cotton. Some Knit Picks Shimmer, some KidSilk Haze, and a bunch of Lily Sugan 'n Cream.

Second drawer - sock yarn (see below for pics)




Third Drawer - Cotton and cotton blends (Why yes, I am fond of TLC Cotton Plus, why do you ask?) Lots of the TLC, plus some random leftovers and the last of the King Tut Cotton from the Short 'n Sweet Bolero.






Bottom Drawer - Random leftover wool and wool blends (separate from the felting stash, which is pictured below). Some Dale Baby Ull, some Cascade 220, the last of the yarn I dyed for Nora's purse, some Knit Picks WOTA and one ball of a cashmere blend left over from a cardigan that I am very possibly going to frog and redo as something that actually fits correctly.






The current WIP's: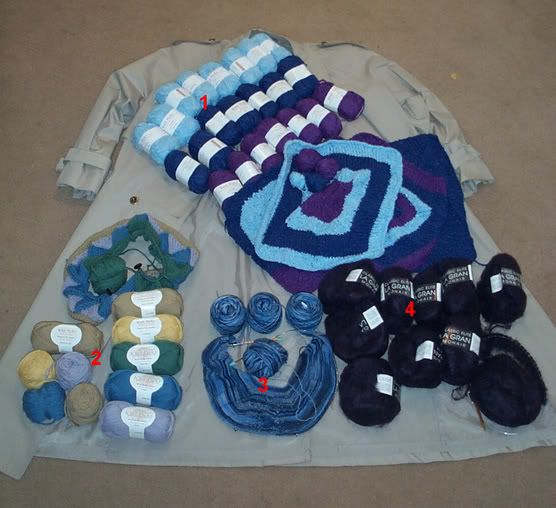 1. KnitPicks Crayon in "Light Blue", "Blue", and "Purple" that is being made into the Retro Throw for Kris's grandmother. (And yes, I was supposed to have this done for Christmas. Didn't so much happen.)
2. Knit Picks Wool of the Andes in "Snickerdoodle", "Asparagus", "Hush", "Daffodil", and "Rain" which is being made into the Market Squares bag from
Bags: A Knitter's Dozen
.
3. Knit Picks (sensing a theme here?) Gossamer in "Blue Jeans", being made into the Faroese Peaks Shawl.
4. Classic Elite La Gran Mohair in "Eggplant" which is being made into the infamous Swoncho from KnowKnits Designs. (This has been stagnant for a loooong time - it may never happen.)



Designated for a project but not yet started: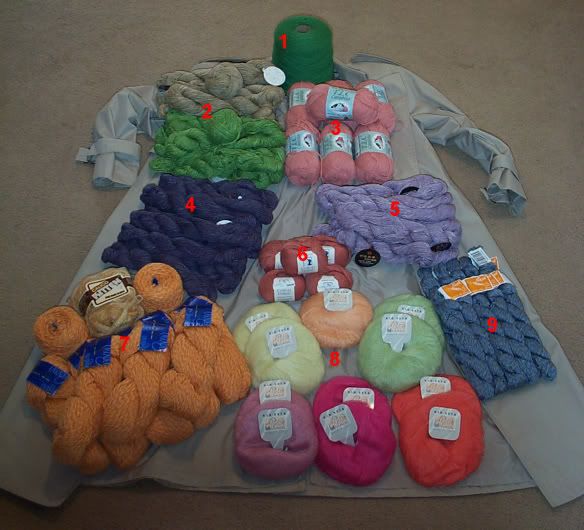 1. A cone of Cascade 220 in green, which will be a Samus cardigan.
2. Noro Cash Iroha in "Camel" and "Lime", which will be a striped Hourglass Sweater.
3. TLC Cara Mia in "Coral", currently designated for the Seelie Court Wrap from
Cast On
's winter issue.
4. Noro Cash Iroha in "Lilac", another Hourglass Sweater
5. Noro Cash Iroha in "Light Lilac", yet another Hourglass Sweater. Of course, if I hate the pattern after the first one, clearly I'll be finding something else to do with this.
6. Elsebeth Lavold Cotton Patine in "Rosehip" - to be the Brussels Lace Camisole from
Handknit Holidays.

7. Cascade 220 Quattro in 5011 and Reynolds Calico Kitten in 181 (a gift from my Knittyboard SP5,
KP77
) which are going to become a Kepler pullover.
8. Madil Kid Seta in "Lemon", "Light Peach", "Lime", "Light Pink", "Hot Pink", and "Salmon", which are going to be a Hodgepodge sweater, another one from KnowKnits Designs.
9. Classic Elite Flash in "Cactus Flower", designated for Festive.



More Planned-But-Not-Started-Yet: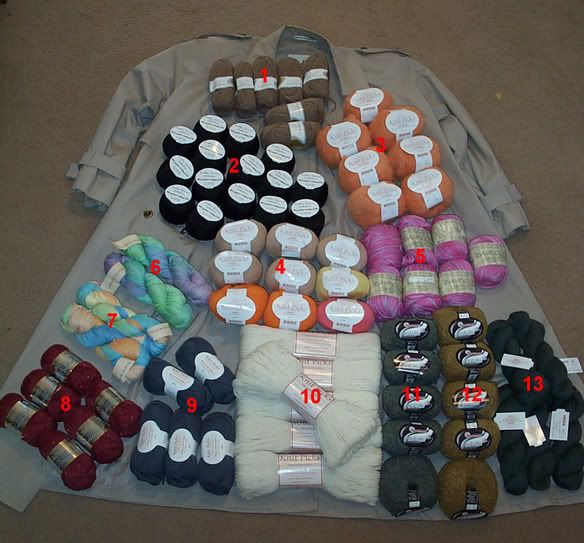 1. Elann Peruvian Collection Pure Alpaca in "Malt Heather", which will be a Flower Petal Shawl.
2. Elann Endless Summer Collection Luna in "Ebony", which will be a Flickering Flames Circular Skirt.
3. Knit Picks Suri Dream in "Apricot", designated for Lacey.
4. Knit Picks Palette in "Twig", "Apricot", "Petal", and "Lemon", for the Lace and Fair Isle Pullover from
Vogue Knitting
Holiday 2005.
5. SouthWest Trading Company Bamboo in "Bougainvillea", tentatively planned to be a cape from
Ponchos & Wraps: A Knitter's Dozen
.
6 and 7. Wool in the Woods Capri in "Oslo" and "Sundance", which will each become 2 Serena wraps (No longer designated for that - I tried, but the yarn just didn't work in that pattern).
8. Patons Brilliant in "Beautiful Burgundy" for a Bevin tank.
9-12. Knit Picks Wool of the Andes in "Mist" and "Natura"l (which wil be dyed) and Austermann Labella in "Winter Sage" and "Autumn Gold". This is intended for the Twisted Float Shrug from the Fall issue of Vogue Knitting. I'm not sure which color of the Labella I am planning to use, which is also going to influence the colors that I dye the WOTA.
13. Knit Picks Shadow in "Lost Lake" for a Sweet Mary Jane cardigan.



Still more Planned-But-Not-Started-Yet:



This one is a mix onf some stuff with specific projects, and some with just vague ideas attached.
1. Ornaghi Filati Merino Oro in red - will be some fabulous lace shawl eventually
2. Lorna's Laces Helen's Lace in "Gold Hill" - again, a lace shawl
3. Gorgeous hand-dyed fingering weight yarn from a trade with DonnaSC. Her husband dyed it, and I have to find the perfect project for it. It's so amazingly vibrant and beautiful.
4. Cherry Tree Hill Cascade Lace in "Gypsy Rose" - yeah, more lace.
5. Knit Picks Shimmer in "Flower Garden". Originally planned for Hush Hush, but the gauge didn't work, so it's designated for more lace.
6. Knit Picks Alpaca Cloud in "Autumn", from a swap with Formerly Momo for the same in Moss. Will be a Flower Basket Shawl.
7. Noro Blossom in Red/Fuschia. I got some of it in a swap with tangledblue, and then bought some more from Little Knits. (This is what I used to make Bloom, which I did after I took this picture, but before the official Stash Flash.)
8. Blue Sky Alpacas Hand Dyes in 2009 and 2010 - this stuff is going to make an amazing soft cozy sweater at some point. I told Kris if he's nice enough, it might even be for him. =)
9. Elsebeth Lavold Silky Wool in "Woad" - this will be my second Branching Out.
10. Hemp for Knitting in "Deep Sea" - not quite sure what this is going to be just yet.



The sock yarn collection: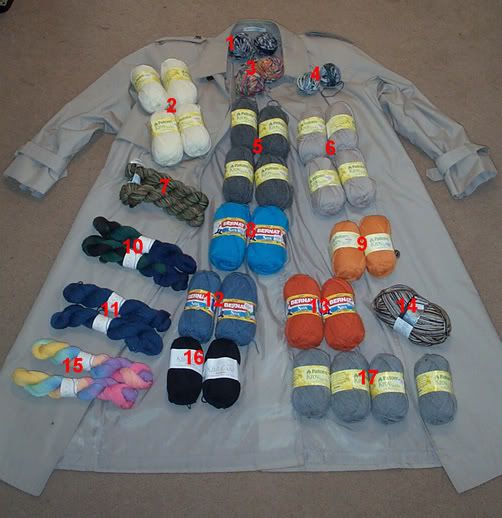 I swear, until not that long ago, I didn't HAVE a sock yarn collection. I blame the going-out-of-business sale at Total Crafts. Not sure specifically what all of these are going to be, other than socks.

1-2. Leftovers from socks I have already made - Patons Kroy Sock in "Denim Jacquard" and "Tutti Frutti Jacquard".
3. Patons Kroy Sock in "Muslin".
4. More leftovers - Knit Picks Simple Stripes in "Storm".
5. Patons Kroy Sock in "Flagstone".
6. Patons Kroy Sock in "Newport Tan".
7. Koigu KPPPM in P334.
8. Bernat Sox in "Aqua Hot".
9. Patons Kroy Sock in "Orangina".
10. Lorna's Laces Shepherd Sock in "Black Watch".
11. Lorna's Laces Shepherd Sock in "Navy".
12. Bernat Sox in "Denim Hot".
13. Bernat Sox in "Orange Hot".
14. Lana Gross Meilenweit Multiringel in 5120 - from my Knittyboard SP5
KP77
.
15. Lorna's Laces Shepherd Sock in "Happy Valley" (Now in-progess Jaywalkers).
16. Knit Picks Essential in "Black".
17. Patons Kroy Sock in "Mercury".

The felting yarn stash: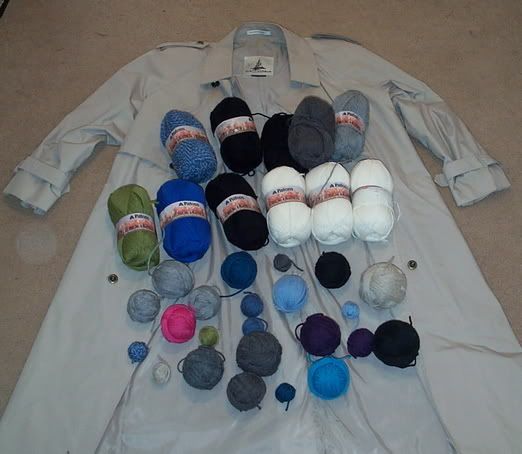 A variety of colors in Patons Classic Merino Wool, my personal choice for felting. I've hit over half of the colors that my AC Moore carries for the felted bags I have done. I am planning to put some of this together to make myself some (probably stripey) Fuzzyfeet.







Undeclared:



All the fun random stuff that came home with me without a project in mind, or were planned for a project that got scrapped.
1. Knit Picks Shine in "Orchid" - 3 from my SP5 KP77 and 3 from a swap with Aspiring Crazy Cat Lady. Still not sure what they are becoming.
2. Reynolds Lite Lopi. From a swap with Raeknits - I'd never used it and wanted to check it out. It will probably be dyed.
3. KidSilk Haze in "Drab". Some was used for my legwarmers. The rest may become lace of some sort.
4. Jaeger Mohair Art in "Ink". Bought it for a scarf for the family Christmas grab bag and decided to go with something else.
5. Crystal Palace Waikiki in "Fern" - Originally, I planned to make a second Clapotis for myself from this, but after I did Mom's in another color and had some "running short" issues, I changed my mind.
6. TLC Cara Mia in "Sandy", "Olive", "Aqua" and "Tan" - Part of the score from the going-out-of-business sale at Total Crafts. This may make its way into a Tubey someday.
7. Classic Elite LouLou in "Wild Rabbit" - Sent as a little freebie from Little Knits.
8. Knit Picks Palette in "Bark". Originally part of the plan for the Vogue Lace and Fair-Isle Pullover, replaced by the "Petal" that bylt sent me.
9. Artful Yarns Fable in "Pinocchio". One of the first good yarns I bought - a cotton/silk blend that really needs a project.
10. Manos Cotton Stria in magenta. No idea, but isn't the color great?
11. Elsebeth Lavold Silky Tweed in "Cool Blue" and "Purple". This was supposed to be a sweater for Kris, but the more I looked at them, the more I decided I didn't like the colors together. Now, it will probably be something (or 2 somethings) for me.
12. Kool-Aid Dyed wool and Bernat Boa in coordinating colors from KP77. These will be used together, once I pick a project.
13. King Tut Cotton in orange. Not a clue.
14. Knit Picks Paint-Your-Own laceweight, in a not-very attractive combination of Kool-Aid colors (I chose... poorly). I may try to overdye this, since I am not likely to use it as-is.
15. Karabella Breeze in pale pink. Cashmere and silk, on sale. Yeah, I had to buy it.
16. Wool in the Woods Double Kiss in "Bashful". Love the colors, just not sure what to make.
17. South West Trading Co Bamboo in "Special". I used one ball of this to make a Branching Out, but I haven't decided what to do with the other two just yet.



The Novelty Stuff: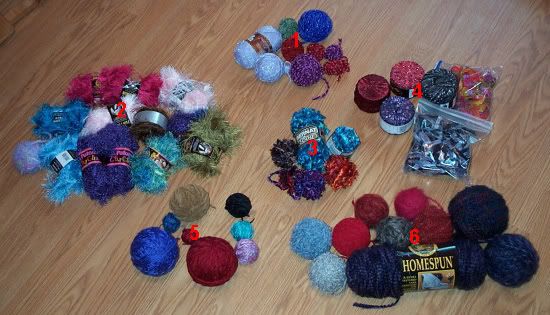 Most of this is left over from one of three things - a felted bag, my red poncho, or a purple scarf that I made for a friend. Incidentally, I would probably be willing to trade some/most/all of this, so if you are interested...
1. Sparkly stuff
2. Fun Fur and similar
3. Bernat Boa in various colors
4. Ribbon and ladder yarns
5. Random oddballs
6. Fuzzy stuff



The Acquired-Since-I-Started-Photographing Stuff: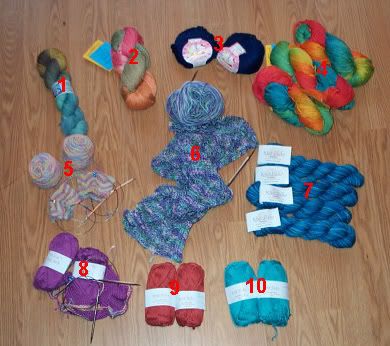 Some of this has appeared here recently, but in the interest of completeness, I photographed it again.
1. Socks That Rock in "Rainforest Jasper" - from the STR Club
2. Schaefer Laurel in "Emily Dickinson" - probably a second Serena.
3. Navy blue Hello Kitty yarn from bylt - possibly too funny to ever be used.
4. Schaefer Laurel in "Judy Garland" - some sort of spring/summer top for me. I might even design it!
5. WIP - The Jaywalkers in Lorna's Laces in "Happy Valley"
6. WIP - The first Serena in Schaefer Laurel in "Helen Hayes" (First Lady of the American Theatre) (See - I told you it was a compulsion)
7. Knit Picks Shimmer in "Turquoise Splendor" for the Tank Top from

One Skein

. (And yes, there are 4 skeins there. I am aware of the irony.)
8. WIP - Baby Bolero #2 from

One Skein

, in Knit Picks Shine Worsted in "Crocus"
9. Knit Picks Shine Worsted in "Terra Cotta" for Baby Bolero #3
10. Knit Picks Shine Worsted in "Reef" for Baby Bolero #4

Labels: Flash Your Stash

<!—Begin #comments -->