Admit It - You're Jealous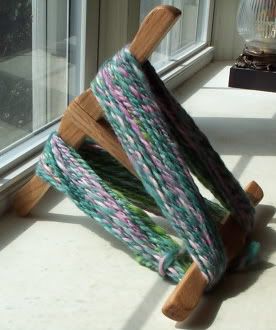 Not of my fabulous spinning skillz (heh) - but of my new niddy-noddy that my darling hubby made for me last night.

See? Isn't it gorgeous? It's a one-yard size - he already has plans to make me a 1-1/2 yard one and a 2-yard one. =) There are a couple of tweaks that we need to make to the design, but I really like what he did.

Question for those of you who spin: if he decides to make some of these to sell, would any of you be interested, and what would you consider a fair price for one? (No, I won't hold you to buying one, I'm just trying to get an idea.)

I'm also pretty happy with how I am coming along with my spinning wheel. It's not perfect, but it is definitely getting more consistent. And it is definitely addictive.

My order from Knit Picks finally arrived yesterday. The first shipment must have vanished into the ether of the postal service, so they re-sent it to me last Thursday.


I started the Baby Bolero from One Skein last night, and I am getting very close to finishing it already. This one is for Steve and Mindy's little girl Kylie. It's a great pattern, and I love the yarn - the new Shine Worsted in Green Apple.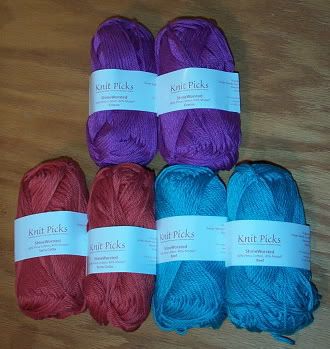 I also have the yarn to make 3 more of these in Crocus, Terra Cotta, and Reef for three more baby girls, all due to make their appearance between now and early June. Good thing I'm enjoying it, no?



I've also made some more progress on my Jaywalkers. Hopefully these will actually fit. They are striping differently, too. I think I like it, though.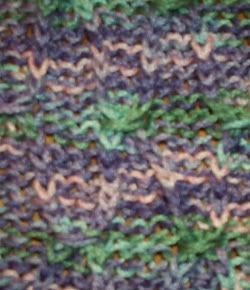 I've gotten some work done on my Serena as well. Gorgeous yarn, and a wonderful pattern by a fabulous designer. It is really coming out well.

Interestingly, my good friend GretchenX (who vanished off the 'net for a while) has returned to the world of knitblogging to announce that she had bought the same yarn (Schaefer Laurel) in the same colorway (Helen Hayes), also to make a wrap. Isn't that a hoot? We are definitely some level of psychic evil twins.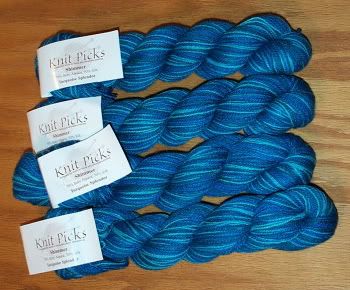 Let's see... what else? Along with the Shine Worsted, I got some Shimmer to make the tank top from One Skein (originally done in Helen's Lace). I decided on the "Turquoise Splendor" to branch out of my usual green theme.


Kris and Jen and I went down to Springwater Fiber Workshop on Sunday to see what they had in terms of roving. I picked up two gorgeous things of hand-dyed roving (the two in the middle) in and orange and red combo and a purple and pink combo. I can't wait to see how they spin up. (The roving on the top is what was sent from my faboo SP bylt, and the green on the bottom is the last of what came with my spindle kit, which is what I have been playing with so far.

I really need to finish up my pictures for the Flash Your Stash this weekend, since we've got out-of-towners arriving Thursday and Friday. I was planning to do some of that today, but Kris is having some major issues with his upper back and stayed home today.

Thank you to all of you who popped over to say hi to Kirsten. She's on the Knitty Coffeeshop boards now (kstiirken), so you'll get to know what an awesome person she is.

Labels: Knitting - Planned projects, Knitting - WIPs, Knitting - Yarn acquisitions, Spinning

<!—Begin #comments -->