I've crossed over...
... to the crochet side.


OK, so I've actually known how to crochet for a few years, but I haven't done it in quite some time. Then I picked up the new Stitch 'n Bitch Crochet book, and I really liked some of the designs, so I decided to pick up the hooks again. This is the Short 'n Sweet bolero from the book, done in Halcyon King Tut Cotton in Turquoise. I really like how it is coming out, not least because crochet moves so freakin' fast. =) I've got about 1 repeat left around the bottom of the body, and then the sleeves and the edging to go. I'm going to look at it once the body is done according to the pattern and make sure that it isn't too short on me. I have some extra yarn, so I should be fine to lengthen it if I need to. I love this stitch pattern - it's really textural and just nifty.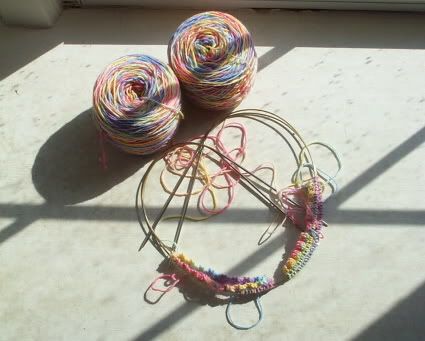 I've also started another project. (You know, because I don't have any waiting over there in my list that have been sitting there for months or anything) Aren't they awesome? What do you mean, you can't tell what they are? Isn't it obvious? =) Anyway, these are my Jaywalker socks, being done in Lorna's Laces Shepherd Sock in the "Happy Valley" colorway. This is my first time using LLSS, and I freely admit that I ordered this color not only because it was pretty and springy, but because Happy Valley is the nickname of both Penn State (where hubby went) and Westminster College (where I went). So far, I am loving the yarn, although getting everything cast on and arranged on the circs was an adventure, for some reason.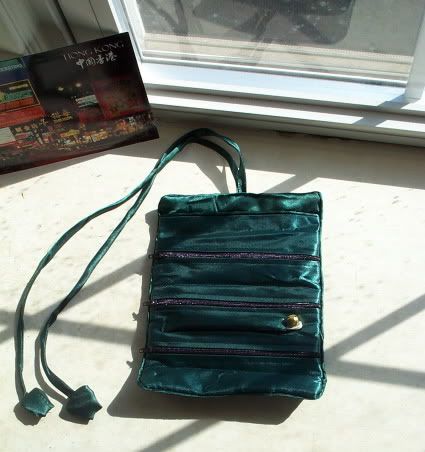 And lookie here - I got a package! My awesome, lovely Knittyboard SP bylt (whose identity I figured out by complete accident of fate) sent me these goodies. (The postcard actually arrived before, but I forgot to post it. She sent it to me from her trip to Hong Kong.) On the right of the picture (and in the picture to the right, opened) is a gorgeous green case to hold all sorts of life's (and knitting's) little necessities, and on the right are 2 balls of Elann's Sock It To Me Esprit in a lovely purple and turquoise combination that I am looking forward to playing with. In the middle - check out that label. Yes, folks, that is Hello Kitty yarn! She found that in Hong Kong, and tell me that is not the funniest thing ever. It's a really pretty bright navy blue, and is quite soft.

I've got a good part of my stash photographed for the Flash on the first. I just have some oddballs to put together yet.

Oh, and thank you for your kind words on my Bloom shawl. Honestly, it's a very nice, easy pattern - who doesn't love garter stitch short-rows on US15 needles? =) And I know, I still owe you a modeled shot. It's a crazy week for hubby at work, so I haven't managed to get him to take a picture yet.

Labels: Crochet, RAKs and SP Stuff

<!—Begin #comments -->