And It Begins...
Wow, this wheel thing could be seriously addictive. I think I'm starting to get the hang of it, although I am definitely still having some overspinning issues (as you will see).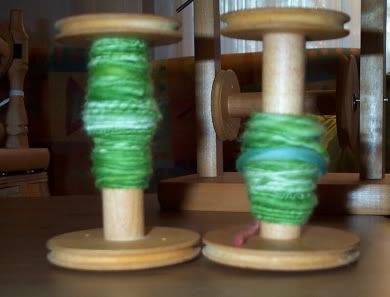 I spun this last night. It's the big thing of roving that came with my drop spindle kit, so I even separated and teased the fiber myself! (And yes, I know that the camera focused on the lazy kate behind the spindles. Unfortunately, I didn't know that until it was too late to take another picture.).




Then, I branched out into something new - plying! I had some... adventures with it, but it got a little better as I went on. I soaked it and hung it to dry with a little weight on it, and this morning, I knit it up into a little swatch.


Ta da!

The color is close to the swatch picture, although maybe not

quite

so bright.







So, this morning, I had to play some more (duh). I spun up some more of the roving from my kit, and I think I'm getting a slightly better grasp on the idea of pre-drafting. It makes a HUGE difference. I spun this up, and then decided to ply it, too.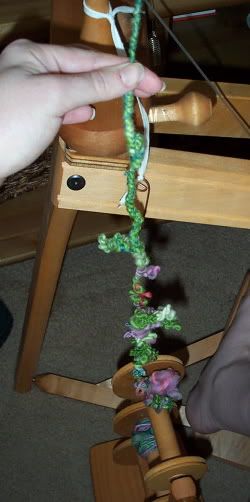 Um, yeah. Oops. This would be that overspinning thing I was talking about.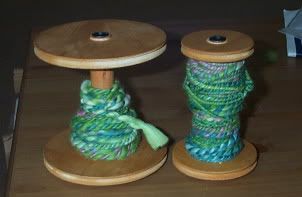 I got that untangled, and finished plying it. It's now washed and hanging to dry. I'll probably knit it up as soon as it is dry. It's getting a bit more even as I work. Happily, I've got some more roving to work with, and I can keep playing for a while. I may see about going to Springwater tomorrow to take a look at their rovings and stuff.

Labels: Spinning

<!—Begin #comments -->