Vegas, Baby, Vegas!
That was the text message I got from my brother the other night. I knew he had been talking to his boss that night about moving from the San Diego salon (He's a hairstylist and platform artist for Paul Mitchell) to one of the Vegas salons, and now he is moving! At this point, he just has to wait on the paperwork for his Nevada license, and then he can move. He's pretty psyched about it, especially because this may mean an eventual promotion. Can you tell I'm terribly proud of him? He's making a living doing something he loves, and he's getting to be quite successful with it. So, if anyone out there in Las Vegas is looking for a hairstylist, let me know!

On the knitting front, I finished the Cotton Tape shrug, and even wore it the other night. Did I manage to remember to get a picture? Of course not. It did stretch out a bit, so I need to address that before I wear it again. I may take Jen's idea and crochet a border, or possibly pick up and knit one a la Lacey. (Nothing that big, but maybe a couple of rows would work.) I have almost 2 full balls left, so I should be able to work something out.

So, once I finished the shrug, I was a very good girl and swatched my Cotton Fleece. I learned something - I reeeeeeally like this yarn. It has a great feel, and I love the way it looks. Somehow, it makes me think a little bit of linen, I don't know why. So, after swatching AND washing and blocking my swatch (Alert the press!), I started on my Prosperous Plum on Sunday. It started out a little fraught with peril (as Jen and I are fond of saying), but that had nothing to do with Joanna's pattern. First, I cast on, and joined it in the round. I knit a row... and it was twisted. So, I frogged it back to the cast-on and tried again. I got through the picot hem (my first - I really like the technique!), and the eyelet row above it. I started working around placing the markers and doing the increases for the cable/lace sections... and I ran out of stitches. So I stopped... and I thought about it... and I realized that instead of casting on 176 stitches, I cast on 166. That won't work. Frog... frog... frog. Grumble.

I cast on again (The correct number of stitches this time - I counted about 12 times) and zipped through the hem and eyelet. As of last night (Two days of knitting) I am here (Front on left, back on right, modeled by my computer chair).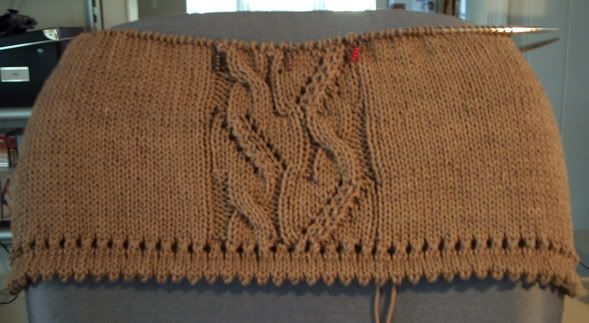 I am in the waist section - between the decreases and increases. This is one speedy pattern! And look at those cable and lace sections - is this not the coolest design? I am really excited to be able to work on it with Joanna to make it available to more sizes.

Oh, and Kris picked up the last set of fish this weekend - 2 male fancy guppies. They are quite lovely, and they swim around like maniacs. One of them likes to swim across the tank in up and down diagonals. And sometimes when he swims down toward the gravel, he'll do a little spin. I think he looks like he's pirouetting, so I've taken to calling him Baryshnikov.

Labels: Knitting - WIPs, Misc.

<!—Begin #comments -->