I'm still here!
I know, it's been a while. It's been a rough week or two, and I just haven't felt much like posting. On April 11, Kris lost his dad to a sudden heart attack, so we spent several days in Pennsylvania dealing with that and helping his mom. We're both still in shock a little bit - it doesn't feel real.



I did finish Serena while we were in PA. I'm blocking it today, but it came out really well. I'm still in love with this yarn, although I was surprised to almost run out before finishing, since I should have had tons left over. I need to take a look at my gauge again and see if I was off more than I realized. (OK, I just checked - looks like my gauge was pretty much spot-on. I have no idea how I ran out of yarn.)

Other than that, I did have to start over on my One Skein Tank Top, because my gauge was horribly off, and it was going to be approximately circus-tent sized. Luckily, I was only an inch or so into it and have since caught up and passed where I was.

In other news, you will notice that my Yarn Focus Challenge ticker has been re-set. I blame Jen. See, she told me about this awesome sale at WoolWinders, and I offered to go as moral support/company for her. I was really, truly not going to buy anything. I mean, it's only 2 weeks until Maryland Sheep & Wool. We got there, and I was being really good. I did play with a couple of hanks of Schaefer Laurel, but that was mostly because I love seeing the colors they come up with for the famous women.


Then I started thinking about the pattern I am test-knitting. It's the Prosperous Plum tank, which Joanna is working on offering in more sizes than just her own. (Hence me test-knitting it). See, it calls for Cotton Fleece, and I don't have any in my stash. I thought about subbing, and she told me that was fine, but I really didn't have anything that I thought would work correctly. Plus, I was concerned that using a different yarn might be problematic if anything seemed off with the pattern - I wouldn't know if it was the pattern, the yarn, or the knitter (you know - me). So... there was the cubby of Cotton Fleece. With a little orange tag above it, telling me that it was on sale for half-price. So, it came home with me, in a lovely shade of tan called "Teddy Bear" (a little less orange-y than the pictures). (And yes, I bought more than I probably need, just in case of issues)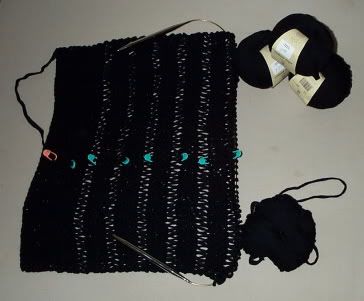 And then there was Jen's new shrug. She picked up the Rowan Cotton Tape the last time we were at WoolWinders, and this was the first time I had seen it in person. It's very very cute, and the Cotton Tape was 40% off, so... yeah, I bought some of that too. Mine will be black, rather than that awesome orange, though. In fact, I'm almost halfway through it, just from working on it last night while Jen and Kris had their weekly DDO game with one of Kris's buddies from work. Gotta love working on size 11 needles.





And for those of you who were asking: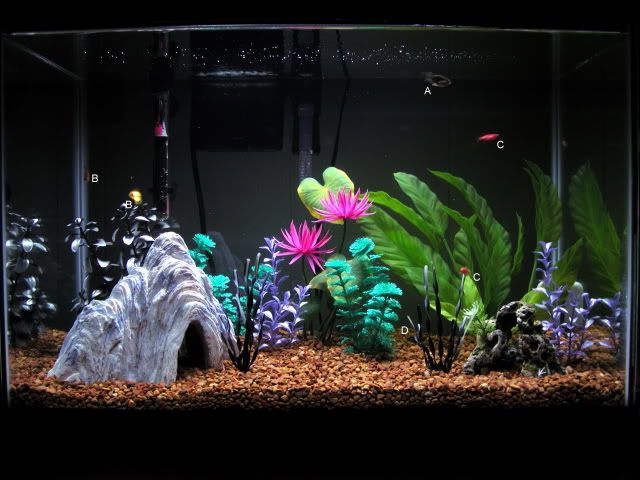 Fishies! We're up to 9 now - 2 Zebra Danios (A), 3 Von Rio Flame Tetras (B), 2 Glow Danios (C), and 2 Cory Catfish (D). Obviously, not all of them are in the picture. They didn't want to pose for Kris. Silly fish. So far, the Corys are the only ones with names. Kris calls them "Haim" and "Feldman". (What can I say - we're children of the '80's.)

ETA: Further thoughts on Serena: Looking closely at it, and comparing it to Zib's original, I think the difference is that I wrapped the diamonds more loosely than she did. It looks like that may have taken up a fair amount of excess yarn. I am now debating whether it is going to make me crazy and therefore needs to be frogged and re-done, or if it won't bother me. Thoughts?

Labels: Beasts, Knitting - Planned projects, Knitting - WIPs, Misc.

<!—Begin #comments -->