Two Words
Woo and hoo!

I had a discussion last night with hubby regarding the current length of his socks and the amount of yarn left. When he realized that I wasn't actually kidding about then turning into knee socks, he told me to forget using up the yarn and just make them the same length as a pair of his other socks. I checked those today, and I was actually able to cast off the neverending socks! They ended! Yay!

Pics to follow once my model is home from work.

ETA: And now, my hubby in his natural habitat - at his computer.

Oh, yes, and his socks. His not knee-high socks, which he has pronounced very comfy and warm.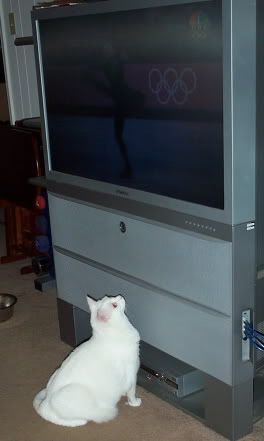 I forgot to post this earlier. As I was watching the Olympics Tuesday night, Rowena joined me. The Ladies' Short Program was on, and Rowena did something I have never seen her do before - she stood there and watched the tv. She was completely entranced by this one skater (and now I don't remember who it was - one of the Japanese women, I think). As soon as this skater was done, Rowena lost interest and walked away. Seriously - she has never even glanced at the tv before, and she was just suddenly fascinated by this skater. Silly, silly cat.

Labels: Knitting - FO

<!—Begin #comments -->