Tag! I'm It!
At least, I am per chacha. =)

So - the "Favorite LYS Meme":



1)What's your favorite LYS?

: Stitch DC (Capitol Hill) (Interstingly, the same as Jen's)



2)What about it do you like most?

: Easy access via Metro, very friendly staff, nice variety of yarns, and super-close to both Banana Cafe and Marty's (I have a friend who bartends at Marty's)

3)What is your 2nd favorite?: Knit Happens (Alexandria)

4)What would you improve about it to make it a tie with your first?: Hmm... probably if it were a little closer to the Metro, because I hate driving in DC. Plus, I really don't like having to pay for parking in Alexandria. Yarn-selection-wise, and staff-wise, though, it's right up there with Stitch DC.

5)What's the last thing your bought at your #1 LYS?: Um... I think the last time I was there was with Jen and Stephy, but I don't think I bought anything (!) So, I think the last thing I actually bought would be the Blue Sky Alpaca Hand Dyed and Allhemp6 that I got during the Super Bowl Sale.

6)Who's Next?: Let's see... how about my darling SP's, and my Partner-in-Crime for SP7. So, bylt, CBear, Domestic Overlord... let's hear it!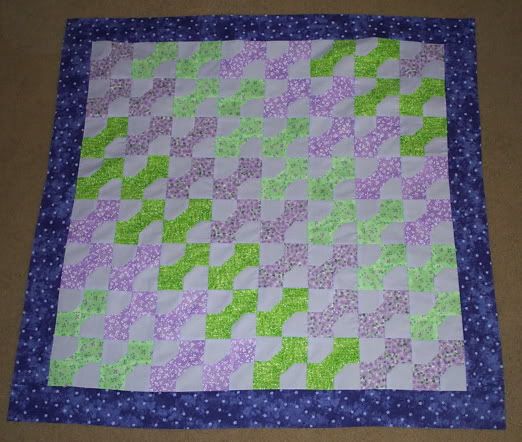 In other news, I finished piecing quilt #1. The back and the binding will be the same dark purple fabric as the border. I'm really happy with how it came out. I figure I'll probably baste it tonight, and then finish it up tomorrow or Friday (hopefully). We are planning to go up to Pennsylvania this weekend, so I'm going to bring the last Baby Bolero with me, and then I can do the other quilt when I get back. I am hoping to have both done before we go to PA for Memorial Day weekend. That way, I can give Renee her bolero and quilt, and give the ones for Baby Suto to my aunt, who will be going out to California to see all of them once Baby Suto is born.

Labels: Knitting - WIPs, Memes

<!—Begin #comments -->