Birthday Stuff!
I was planning to post this yesterday, but we spent all day at the Maryland Renaissance Festival having a blast (and eating ourselves silly), and I was too pooped when I got home.

My darling hubby spoiled the heck out of me for my birthday. I only hope that I do as well spoiling him in two weeks. In addition to a new paring knife and some Broadway DVD's, he gave me this:


That would be a Jordana Paige Knitter's Messenger Bag (which I now carry with me everywhere) in the back. In the front is a set of interchangeable bamboo knitting needles. They are gorgeous...so smooth and lovely, and in a really beautiful case.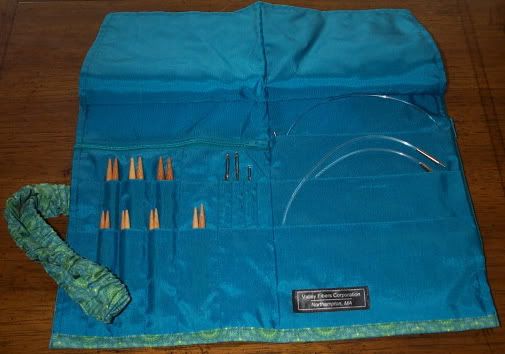 And he got me a Learn to Spin kit from Hello Yarn!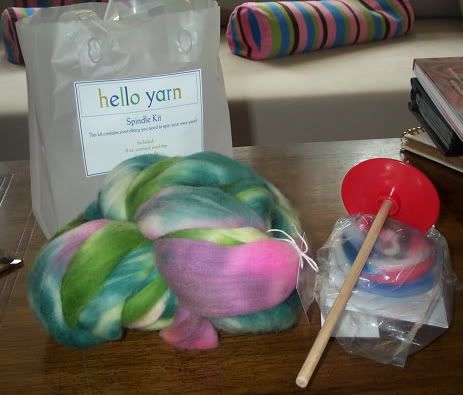 It has really clear instructions, a handspindle, some of the most gorgeous green and blue and pink wool to spin, and a small chunk of ready-to-go fiber (in the baggie under the spindle) that Adrian put in there especially to try first. How cool is that? I think I may sit down with it tonight and give it a try.

Jen, so sweet and so cool, gave me a copy of Nicky Epstein's

Knitting Over the Edge

, which I am loving.
I am going to take it with me for the seminar at Stitch DC, along with my copies of

Knitting on the Edge

and

Knitted Embellishments

to get them signed.

Saturday, we headed down to Knit Happens in Alexandria with Jen, and we met up with Gretchen there, as well. It was the first time I had been there, and what a great store! Some beautiful yarns, and really friendly people, too. The store is bright, and well organized. I was wearing my new One Skein Wonder and got lots of compliments on it, so maybe I'm a little biased. Hee. I picked up three balls of a yarn I have been dying to try - Muench Touch
Me -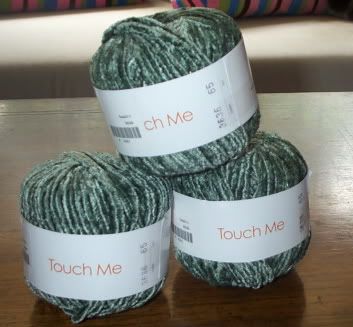 It's a spectacularly lovely sea green color, and I think it is going to be a modified version of the "Vintage Velvet" scarf in Scarf Style.

After a lovely lunch of tapas, we bid farewell to Gretchen and headed to Capitol Hill to go to Stitch DC. Jennifer Lippman from KnowKnit Designs was there and was showing some of her designs. I tried on and fell in love with this crazy thing called a "swoncho" - half-sweater,
half-poncho.

I know it looks a little insane, but it's actually really cute in person. Apparently, I'm just weird enough to love the design. Jennifer is absolutely adorable (that's her in the picture), and has a great sense of humor about it - she freely admitted that it is very much a love-it-or-hate-it design. So, I bought the pattern and some Classic Elite La Gran in Eggplant to make one.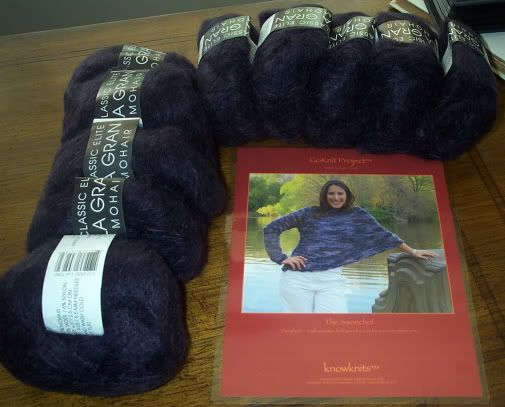 I also picked up some Elsebeth Lavold Cotton Patine in "Rosehip", although I have no idea what I am making with it.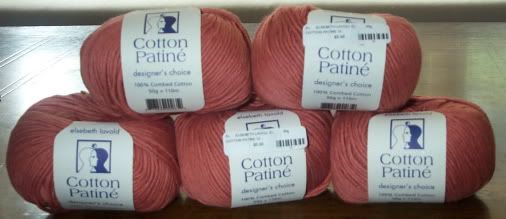 It was just so pretty, and so soft, and so 50% off. =)

And finally, I bought something I have been wanting to buy for ages, and finally decided to take the plunge and buy it - Kidsilk Haze.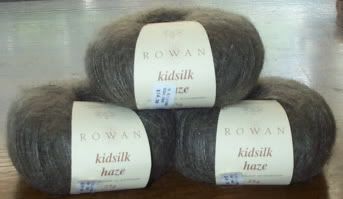 Three balls of a yummy gray-green color that just called out to me. It wasn't until I got home that I discovered that the color is named "Drab". Not the world's most inspiring name, but the
color is really cool. Not sure what I'm going to DO with it, but I own it. For the moment, I'm just petting it a lot. If anyone has any pattern suggestions for the KSH or the Cotton Patine,
I'm all ears.

So, yes, it was a very happy birthday.

<!—Begin #comments -->