Yarn P0rn!!!
I'm a little afraid of what that subject line may bring my way, but oh well. =)

So, last weekend (the 20th), a few of us Knitty girls met up at All About Yarn in Columbia. I picked up a few hanks of Wool in the Woods Double Kiss in Bashful. No clue what it is going to be, but it's pretty, dammit.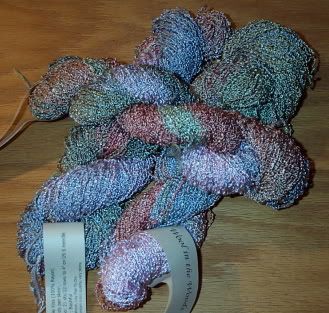 Then, Jen and I went over to The Yarn Garden, where I found a bag of Classic Elite Flash in Cactus Flower on their sale shelves. So, I had to buy it. Again - no idea for what. It's just pretty.



This past Saturday (8/27), Jen and I and Betsy went to All About Yarn and Stitch DC, and had a grand old time. I was a bad girl.
I bought this:


2 skeins of SWTC Bamboo in Bougainvillea - most likely for a Clapotis for me
5 hanks of Crystal Palace Waikiki in Delphinium (the blue-green-purple one) - This will be a Clapotis for my mom
3 hanks of Manos del Uraguay wool in Agate Multi and 3 hanks in Wildflower Multi - these are currently on the needles, becoming a mitred square bag that I will be fulling.
10 skeins of Elsebeth Lavold Silky Tweed in Purple - as soon as I find a pattern, this will be something for hubby
And 5 hanks of Crystal Palace Waikiki in Fern - see above re: pretty. I need to stop doing that...

I'm making pretty good progress on Kris's green cabled sweater. About 2 more inches, and it will be time to add the stripe and start the sleeves. Yay! I'm also waiting on my very first order
from KnitPicks, so hopefully I'll have more yarn to post pics of soon!

Labels: Knitting - Yarn acquisitions

<!—Begin #comments -->