More finished stuff
So, it occurs to me that I finished my Clapotis about a month ago, and never remembered to post any pictures of it.

Here it is, with a teeny smidge of my tattoo peeking out over the top, and a closeup of the actual fabric.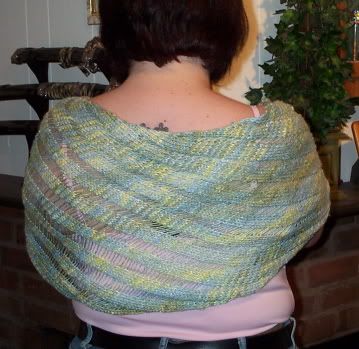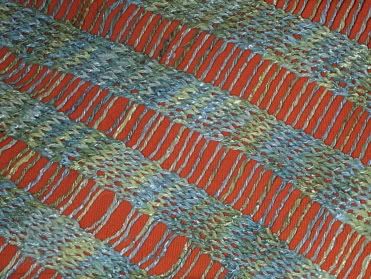 I used Wool in the Woods "Swan", in that lovely bluey-greeny colorway. The yarn is so soft and yummy...

I also finished my Minisweater! Yay! Here is me, in my Minisweater (Check it out - I actually did my hair for once!):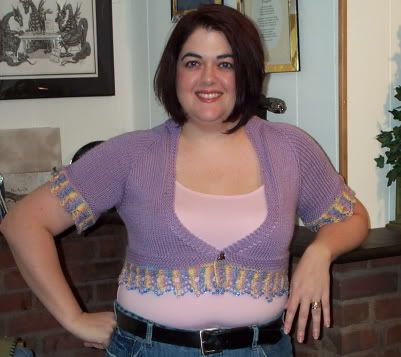 I used TLC Cotton Plus in Lavender. I changed the pattern a little bit - I skipped the extra increases on the sleeves, so mine aren't puffy. Because of this, I needed to do more increase rows to get it around my arms. So, my sleeves and body are a little longer than the original pattern.

I also decided to do a different edging (and skip putting it around the neckline altogether). The pattern is "Beauty and the Bead" from Nicky Epstein's

Knitting on the Edge

, which I totally adore. The yarn is Red Heart LusterSheen in a color called "Serenity". I had to go with that theme, and the button I found is a firefly. (OK, it's actually a bee, but I like to pretend it is a firefly). I will be wearing it to opening night of Serenity, which is of course the movie based on the tv show Firefly. Get it? (OK, cheesy, I know, but I'll be there with THREE people wearing Jayne hats, one of whom will be wearing this shirt, too) Here is a closer look at the edging, and my little buggy button.



And we got our Knitty Secret Pal matches today! I can't wait to start shopping for mine!

Labels: Knitting - FO

<!—Begin #comments -->