First actual knitting post
I decided it was time to post pics of a few FO's that have sprung from my needles, as well as my 2 current WIP's.

So - here we go:

The first non-scarf project I did - "That 70's Poncho" from Stitch 'n Bitch Nation. Or, as it's known here, the Ice Cream Poncho. I used some random acrylic leftovers that I had here, and they ended up all colors of ice cream flavors.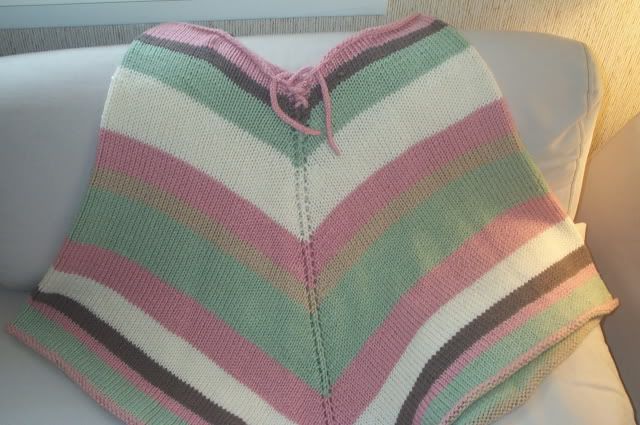 .

I decided that although I liked the overall shape of the Ice Cream Poncho, the colors were maybe not the best. So, Kris and I walked around the AC Moore in Bowie one day and just kept throwing red yarns into the cart. (I love that he enables me!). The result was this fun thing. I even made a matching hat to go with it from some of the leftovers. =)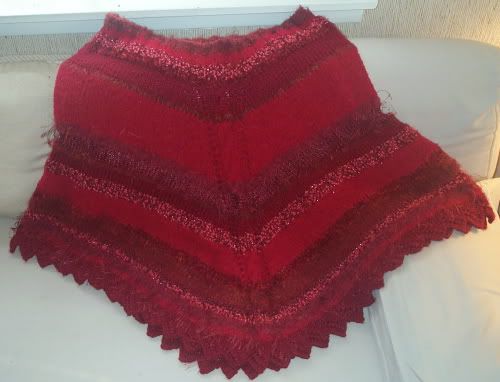 Since then, I've been spending a lot of time on Knitty, which is the niftiest online magazine! Jen pointed me to them by sending me the link to The Vegan Fox pattern. I couldn't resist that, so here is my own personal knitted Muppet
.

Also from Knitty:


Soleil, in Patons Grace.



Ribbon X-Back, in Lion Brand Incredibles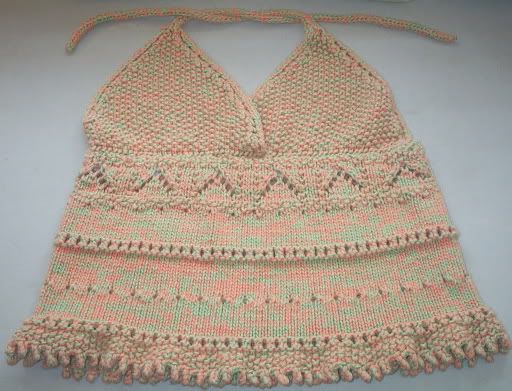 And a slightly altered Cleo, in TLC Cotton Plus. I decided to add some pattern to the bottom section and the edging, just for fun.

I love my Cleo halter, but I wanted something I could wear over it. So, I used the same seed and chevron lace patterns, and the same edging I added to the halter to create this shrug to go with it. I am pretty happy with how it turned out.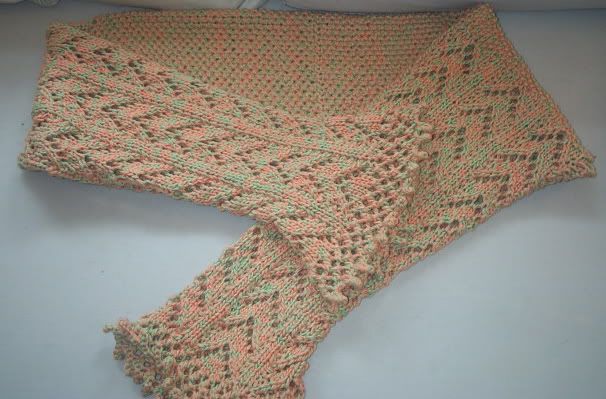 I've got a few other FO's around here, too. I should post them at some point, too.

Currently on my needles:
My second Sigma tank. This one is in TLC Cotton Plus, after I determined that the first one, in Bernat Satin, makes me sweat a little.


The WIP hanging over my head is the sweater I promised for Kris. Go ahead, hon, I said - pick the yarn. Lion Wool-Ease, Forest Green Heather - okey doke! The sweater started life as one from

The Knit Stitch

, but I just didn't like the way it was working up, so I frogged it and decided to design one myself based on this article from Knitty. I asked Kris what kind of pattern he
wanted. He said, "Would you mind doing cables?" "Of course not - I LOVE cables!" I replied. Famous last words. I knit up a couple of swatches, worked with the calculator and ended up with a 2x2 rib around the bottom, with every other "forward" rib as a 1/1 twist. The body (up to the armpits) is a 4X2 rib, with every other forward rib as a 2/2 left-twist cable. But that was too easy, so every other cable crosses on alternating even rows (Cable 1 on rows 2, 6, 10... cable 2 on rows 4, 8, 12...). Why do I do this to myself? I will admit, it isn't boring to knit, but it isn't
exactly speedy either. Here is where I am so far on the body (and a teeny bit of the cuff that I started so I could try Magic Looping),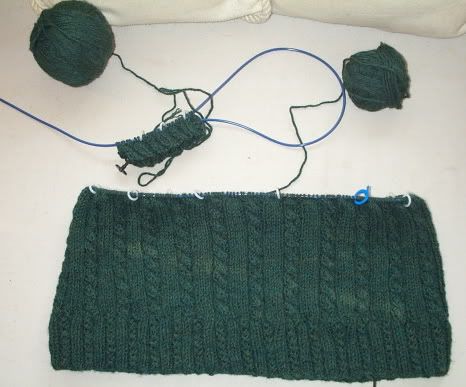 and this is a closeup of the body: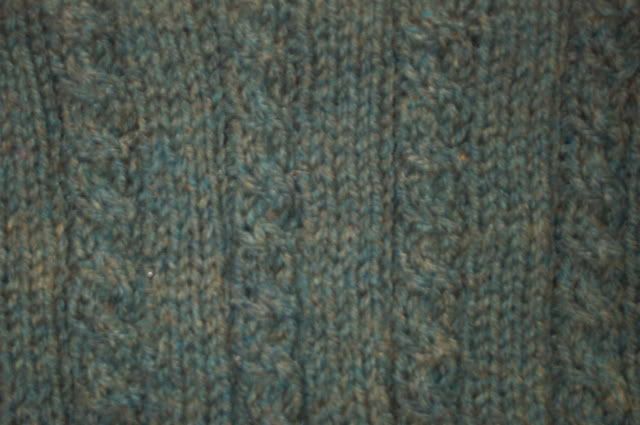 Once I finish the body, there will be a strip across the chest in the Wood color, which will also be on the sleeves, so that it looks like one big stripe. When I start that, I will also be switching to stockinette for the remainder of the sweater. I didn't want to attempt the decreases AND the cables. (The sleeves will also be stockinette.)

I have some TLC Cara Mia that called to me from the clearance shelf at AC Moore, and I swear it wants to be a shrug, but I can't seem to find any pattern I like. Eh, I'll figure something out.

Happy knitting!

Labels: Knitting - FO

<!—Begin #comments -->