SHEEP AND WOOOOOOOOL!!!
It was a wild and wooly (Hee!) weekend here, thanks to Turtlegirl's arrival on Thursday afternoon and Artsygal's on Friday night for the Maryland Sheep and Wool Festival.

We had a complete blast all weekend, starting with a Friday morning trip to Cristi's fave spot to visit when she comes up - Ikea! I'm sure she'll be posting her goodies, but let's just say that the sweater patterns aren't the only thing we have in common. :D Friday night, poor Jas got stuck in traffic and missed our dinner meetup at a local diner with theotheramanda and Stariel, both of whom we knew from the Knittyboards. (Amanda has a couple of pics from dinner on her blog)

We got up BRIGHT and early Saturday morning (like 6am early) and hit the road at about 7. We arrived at the fairgrounds just about 8:00 and headed straight for The Fold. We weren't the first in line for the STR. We were 4th, 5th, and 6th. Ahead of us were two MORE folk that we knew from the boards - Ajastoy and LICraftgal - along with a woman who had come clear from Houston for the fest. We had a blast gabbing and giggling with everyone in line until they opened the booth at 9am and the frenzy began. It gets a bit blurry for a while there, although I do remember the woman behind me who had at LEAST 20 skeins in her arms as she came up to the register.

We wandered around and Jas tried out lots of wheels (Girlfriend was On. A. Mission. :D), we all fondled all sorts of fiber, and then we sat down for lunch before meeting up with the knittyfolks at noon. Unfortunately, there was some confusion about the time and place, and we missed some folks, but we did get to see Ajastoy and LICraftgal again, along with alicec and Buckyknits (blogless, but very cool). As we were heading over to the main barn, Mintyfresh passed us, and Cristi recognized her. She was going the other way, but asked if we were going to the knitblogger meetup at 1, so we said we'd see her there. We walked through part of the main barn and then stepped outside to hit the meetup. We ran into Buttercup4225 (formerly Ladybug42), who recognized Cristi and greeted us with, "Hey! You guys are my fellow Fuggers!" She introduced us to Shannon (who does the SSK podcast), and the five of us plopped down on the grass and had a great time chatting and knitting. We were found (again) by Ariel and Amanda (who were TOTALLY following us all day, even if they won't admit it), and Shannon recorded a bit of us for the podcast. We also got to meet Javajem, Kelpknits, and Frecklegirl (The brains behind the eagerly awaited Ravelry) and Cristi got to meet her very first SP - Jochibi (who was just too adorable - I just wish she had been able to hang with us a little longer). Eventually, everyone started to head off for more shopping, and Jas was itching to play with some more wheels. :D

We got home and played with our new fiber, Cristi and I on our wheels, and Jas on her brand-new Golding dropspindle.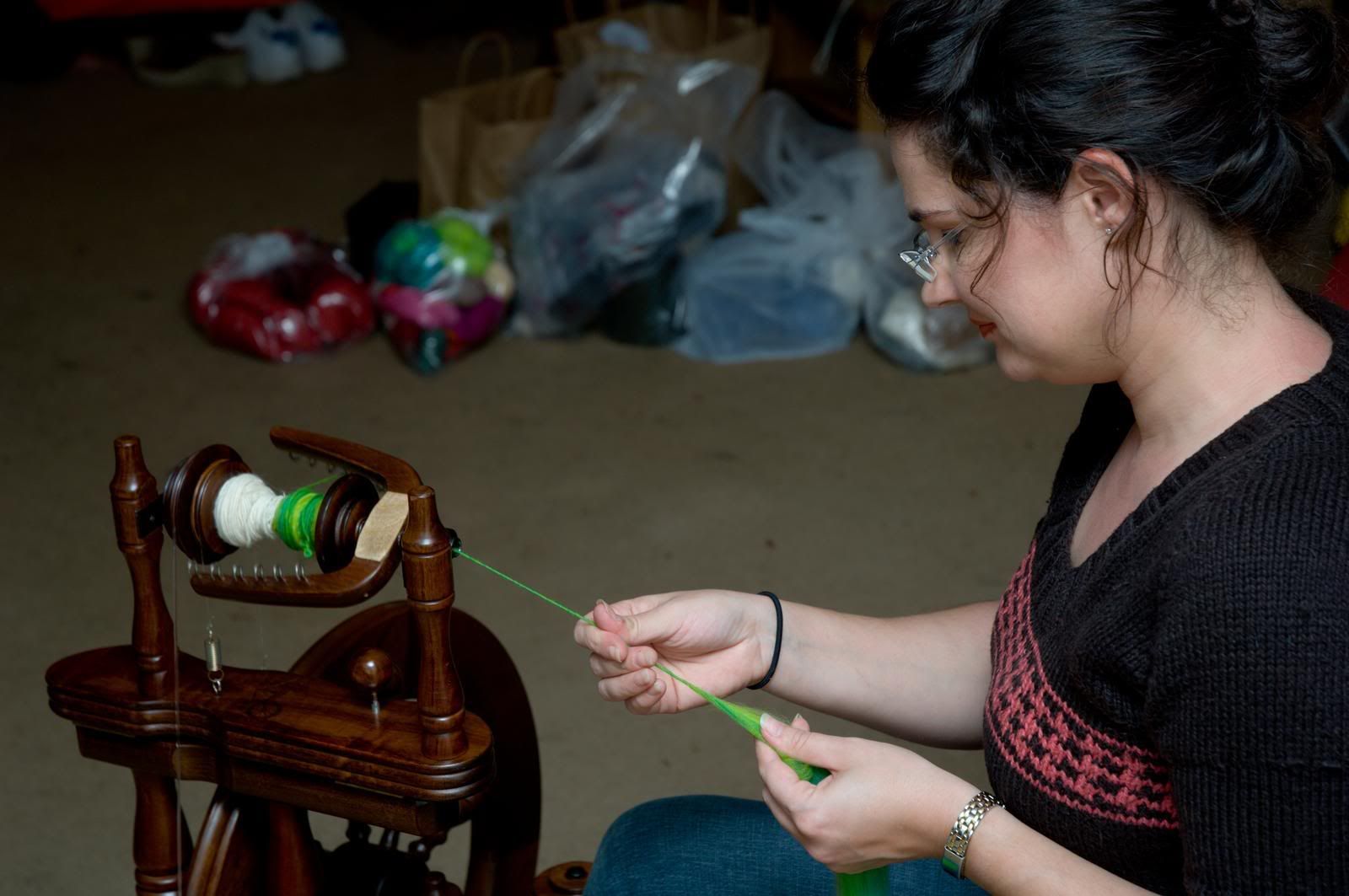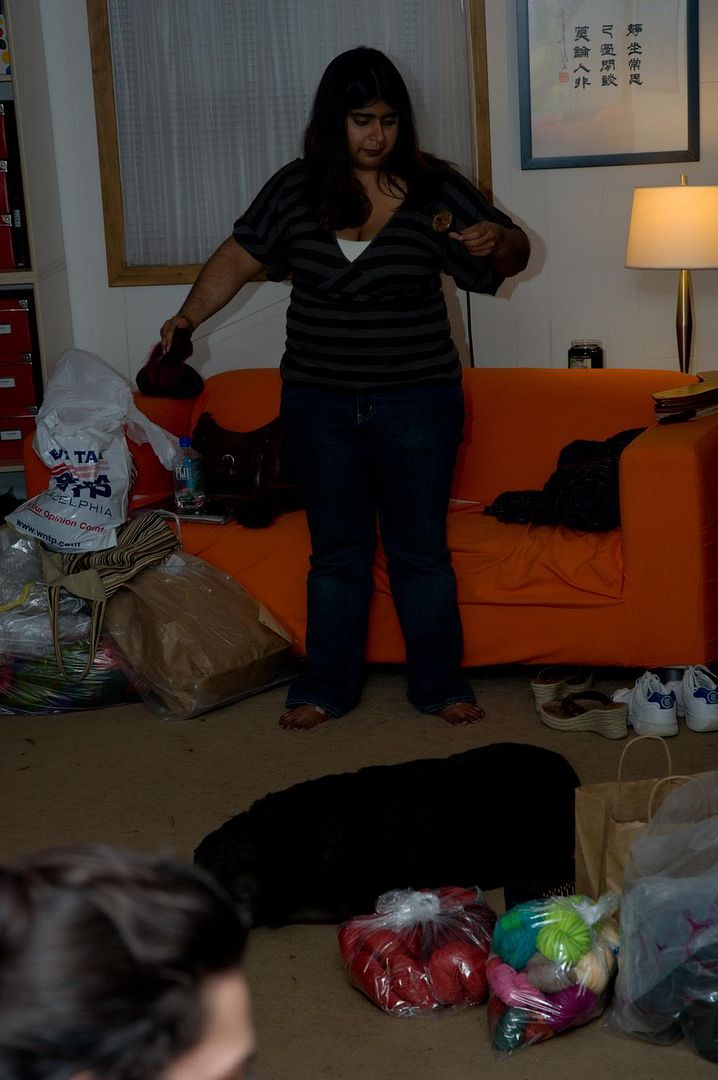 Sunday, we opted to sleep in a bit, and picked up Roxy at 11-ish to head back for day 2, this time with Kris along to photo-document. :D

A few highlights from the day:

Carrie in her brand-new crocheted skirt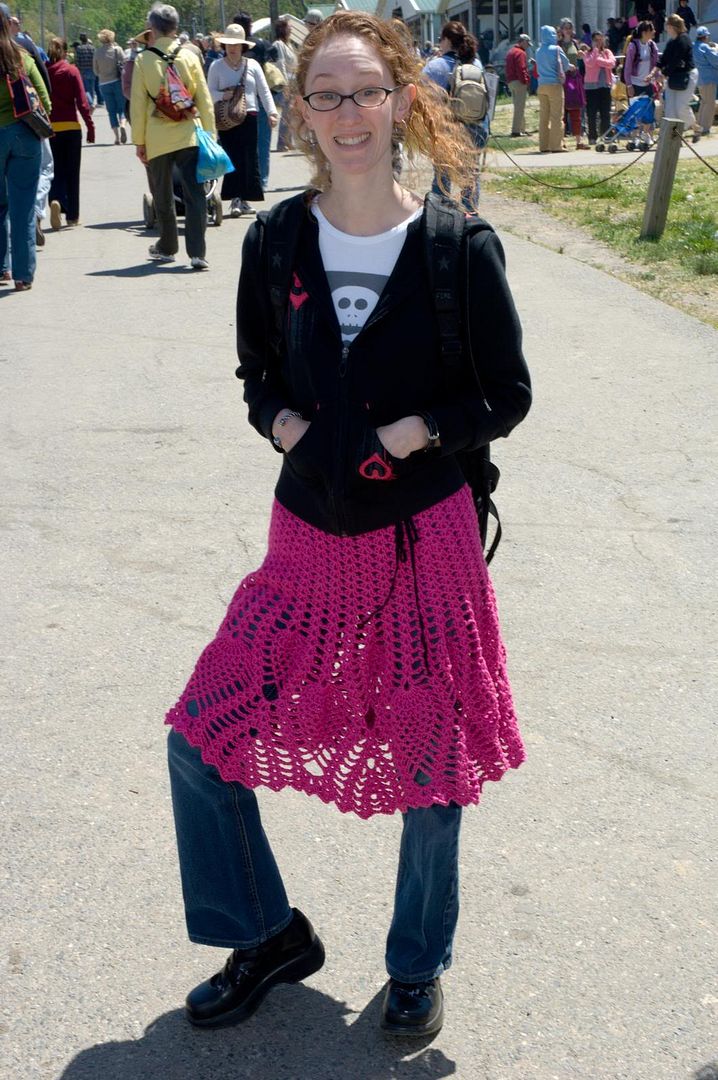 Maryanne's FAB new sock yarn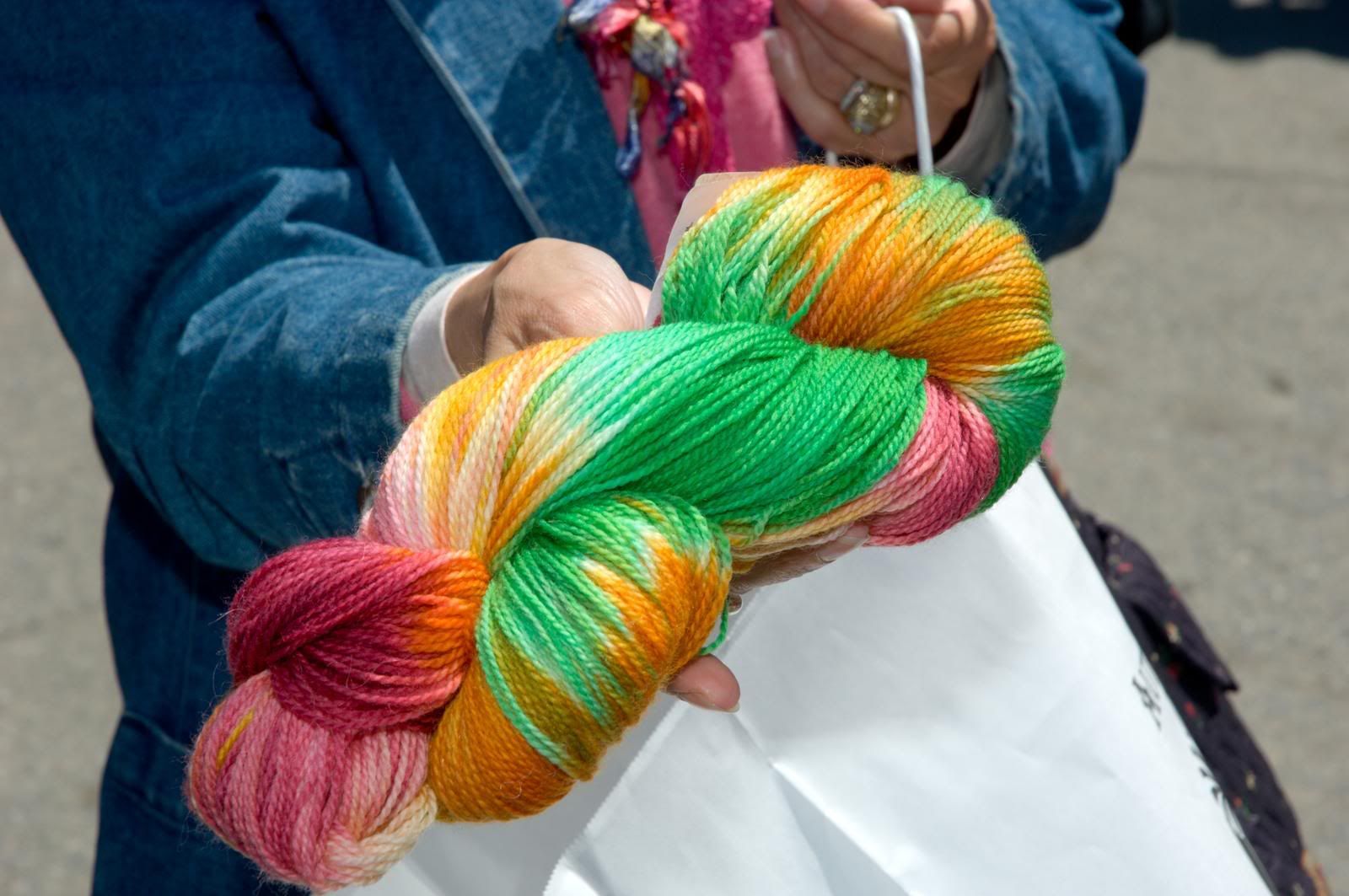 Annemarie being very... Annemarie-esque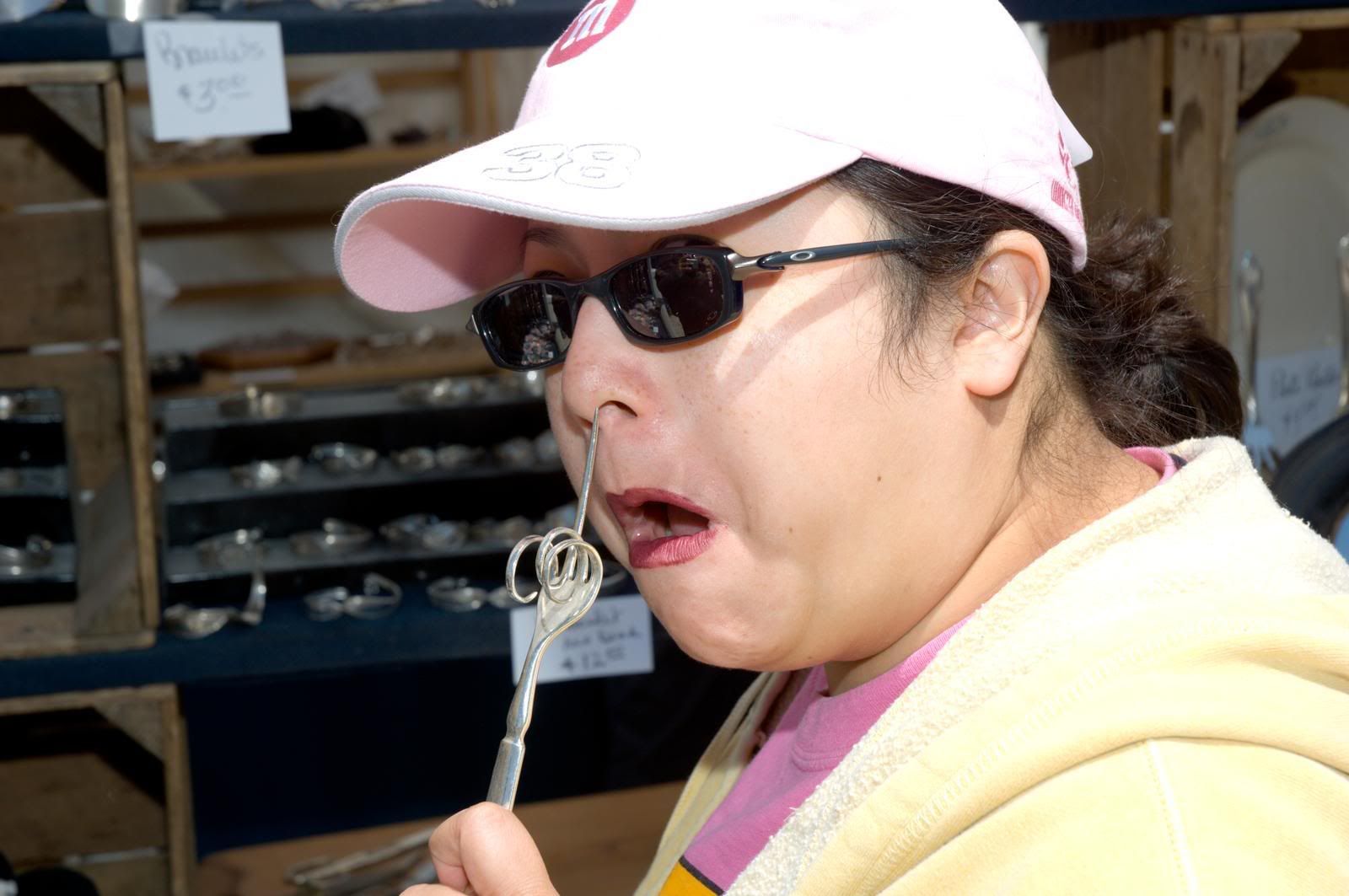 Cristi petting her new necklace/friend - Optim fiber (REALLY soft stuff!)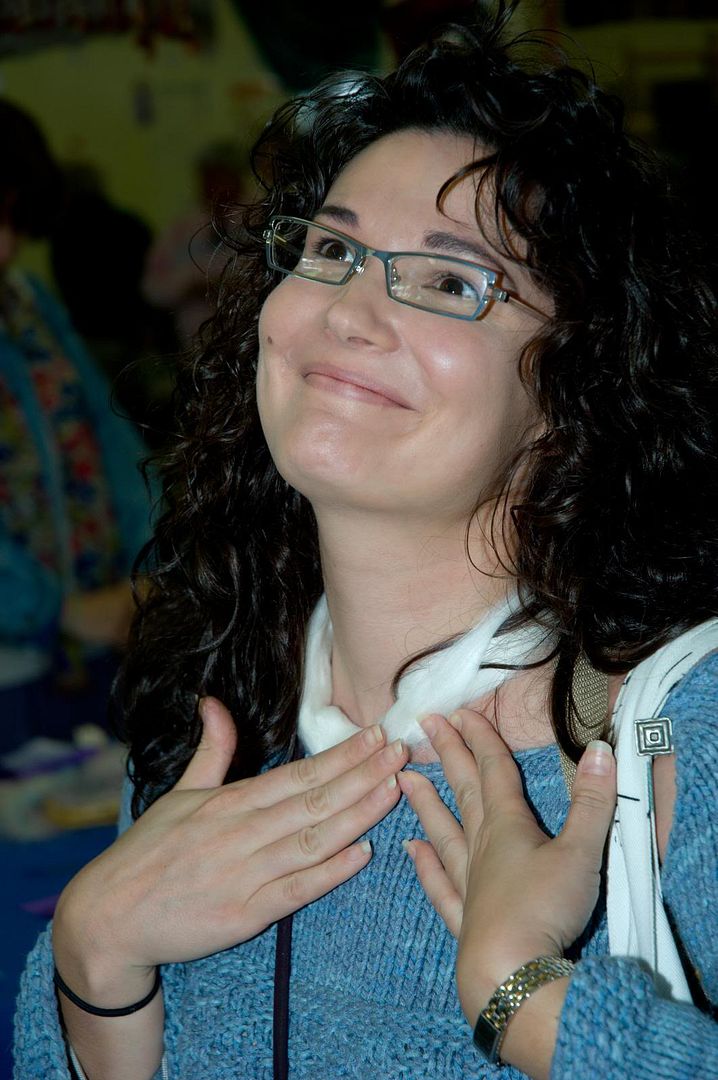 And like she was going to be able to resist these

Annemarie again

Carrie testing out a Hitchhiker wheel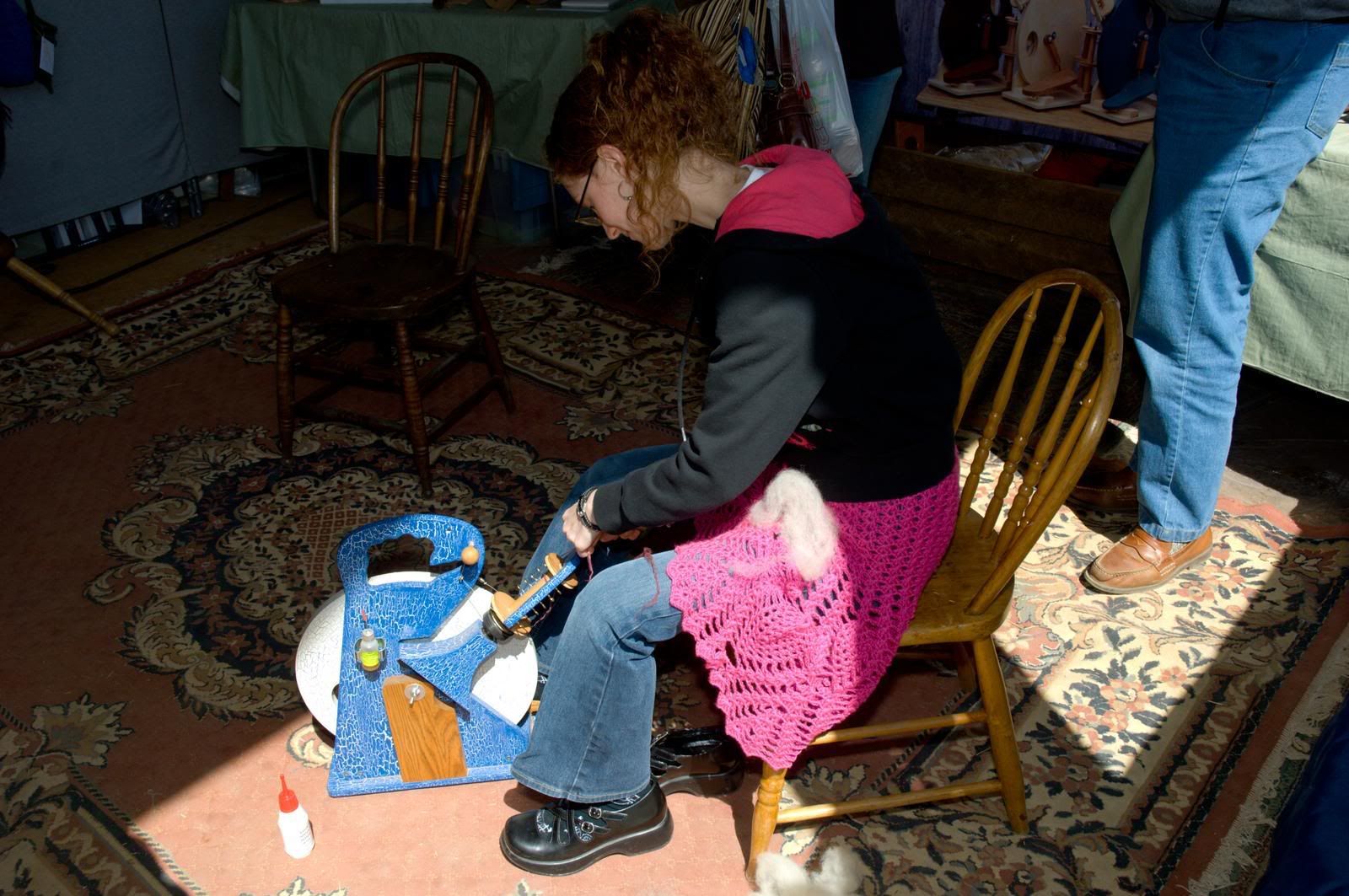 Clearly, Jas and I were better at avoiding the camera. :D The whole album is here.

It was really an amazing weekend - hanging with friends, and finally getting to meet in person people I've been talking to online for almost two years now. I'm already looking forward to next year! (And PKF... and Cristi wants me to come down for SAFF... and I'm still thinking about Stitches again this year.)

PS. Penny_Karma - Lady Eleanor is from

Scarf Style

. Or maybe

Wrap Style

. Dangit, I never remember. But I think it's Scarf.

Labels: MD Sheep and Wool

<!—Begin #comments -->