Summer Fling Secret Pal Strikes Again!
I got a PM the other day on the knittyboards from applepieisyum, letting me know that she was my SFSP, but had been a little absent due to the slightly early arrival of her beautiful baby girl. She wanted me to know that my package was on its way. It arrived today, and all I have to say is WOW! This girl knows how to spoil you!

Take a look*:

That would be a totally cool sushi cookbook (Hubby will be so excited! I like sushi - he LOVES it), the Pike Place Market cookbook (Full of some AWESOME looking recipes based on the products of the Northwest, where she lives), 2 hanks of Reynolds Mandalay silk in the most beautiful sagey-sea green color, a hank of incredibly soft gorgeous laceweight in the colors of the sky during a thunderstorm, and the Koigu Charlotte's Web Shawl pattern. I am super-curious about the laceweight, as there is no label on it, so I don't know if she spun it, or dyed it, or what. The depth of color on it is incredible - the pictures don't really do it justice, but here they are anyway.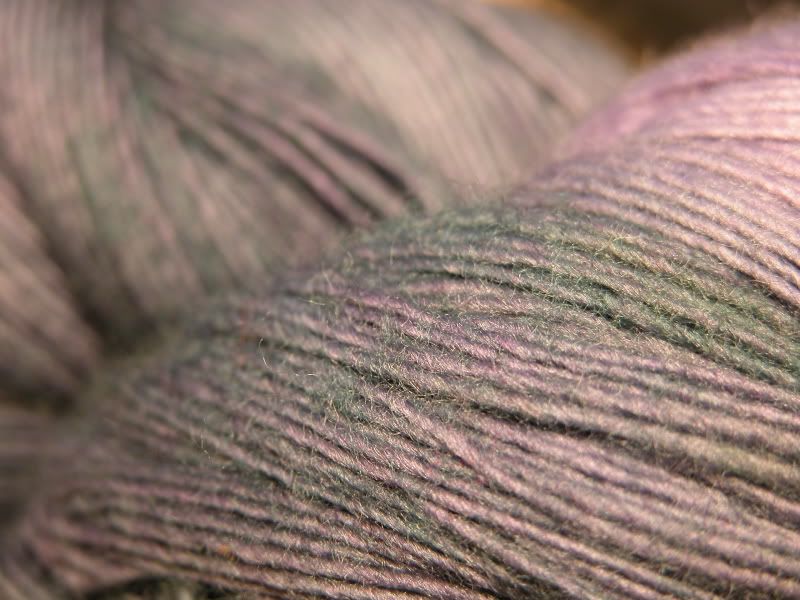 Here is one of the Mandalay, which is totally off color-wise, but shows the cool texture of the yarn (The pic above is pretty good for the color on that).

Now, about the shawl pattern. I'd seen a few of them on the web, and it looked ok, but when I saw one in person at my SnB, I knew that this was a pattern I needed to make. I found out that Patternworks carried the pattern, so I went to my LYS one day to pick out my Koigu. This is what I got.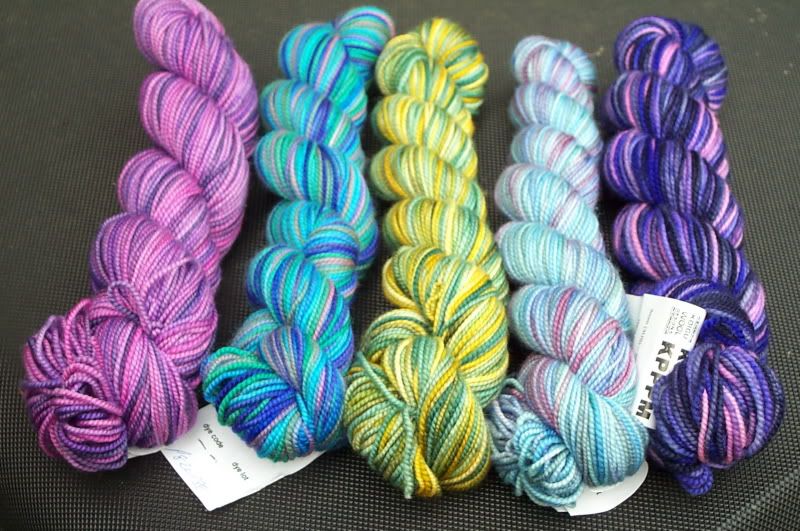 Then, I came home and went to Patternworks to order the actual pattern. AND IT WAS GONE. They didn't have it anymore. I looked everywhere. I checked all of my LYS's when I went in... nothing. I thought for sure that I was sunk, and I'd never get to make it. And my pal came through for me!!! I am so excited, because I think this is going to be a totally cool shawl.

So, once again I say THANK YOU to applepieisyum.

*Yes, if you look at the bottom of my monitor, there is a "42" logo sticker on it. There is one on the case of my pc as well. Nothing against HP, but how could I not get those? We found them at ThinkGeek, which we love. They have a bunch of different ones.

Re: the comments on my KIPer Bag Review -

roxy - I cannot believe you didn't call my cell. We LOVE Cali Tortilla... *pouts*

valerie - There is a combo line magnifier/needle sizer for the Options set, but it doesn't have magnets, and it isn't flat.

criosa - Yes, the clasp folds down when the purse thingy isn't on there. Or I'd have the same problem. =)

And to all of you who cursed my enabling ways, well, :P *grin*

Labels: RAKs and SP Stuff

<!—Begin #comments -->